Posted In ASA, ASA Announcements, ASA In The News, ASA Resources, Daytime Provision, Extended Stay, Respite Resource, Shared Lives / NAAPS
We are thrilled to announce Kerry Truelove, Day Time Provider, won the Community Care Award category, sponsored by Lincolnshire County Council and was presented to her by Glen Garrod. This is a remarkable individual achievement for Kerry and Adults Supporting Adults are extremely proud.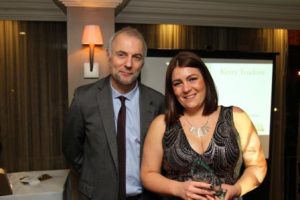 Picture of Kerry Truelove receiving her award.
Kerry has been a Day Time Provider with Adults Supporting Adults for 4 years, offering one to one support within the area of Lincoln. Kerry has made a difference to the lives of many clients. Her sensitive, intuitive and encouraging nature has allowed individuals with various support needs to retain as much independence as possible and attain goals they previously could only dream of. Whether supporting with Mental Health, Physical or Learning Disabilities Kerry has demonstrated passion in her role to ensure individuals' feelings of self-worth are achieved from learning day-to- day living skills to partaking in life-long goals. Kerry has aided successful completion of an educational course at a mainstream college without whose help the individual and their family believe would not have been possible without Kerry's diligence, perseverance and understanding of educational needs. As a result of Kerry's ability to gently challenge the attitudes of others and advocate for more inclusive practices, changes and improvements from this particular experience is allowing greater access for those with more challenging needs. Kerry has supported individuals to overcome physical difficulties in their pursuit of achieving sporting goals and having the joy of surprising family members. Kerry encourages individuals to take pride in their achievements, however small, and offers continuous encouragement. Her calm demeanour instils a feeling of safety and security in those she supports allowing relationships to develop. Kerry's proactive and resourceful nature ensures each need is met in a safe and secure environment while ensuring the dignity of those she is supporting. Her dedication, determination and commitment to fulfilling individuals' support needs is greatly appreciated by all her clients as she encourages and enables social inclusion within their local communities.
Quote from Kerry's clients mother:
'My family believe Kerry should receive this award because she offers my daughter trust and
reassurance. She always encourages and boosts my daughter's confidence to enable her to reach her full potential. As well as her work with my daughter she provides respite for me safely in the knowledge that my daughter is in the best possible care. Thank you Kerry for everything you are and everything you do'.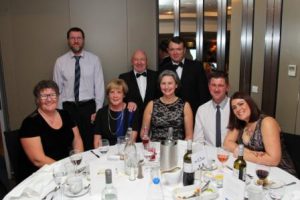 Picture of all who attended from Adults Supporting Adults. From left, Jayne Marsh Registered Manager, Stephen Johnson Business Manager, Helen McDonald, Ian McDonald, Lorna Lee Area Supervisor, William Morrison, Neil Truelove, Kerry Truelove
We would also like to congratulate Helen & Ian McDonald for being finalists for the Community Care Award category. They were nominated to recognise the 23 years of commitment to Adults Supporting Adults, where they have offered many individuals Respite and Extended Stay arrangements within the home. This has enabled the individuals to gain in confidence, independence and to experience new opportunities within a safe and nurturing environment.
Phillip and William have lived with Helen and Ian for a number of years, they both supported the nomination and William attended the awards Gala Evening on the 23rd February 2017.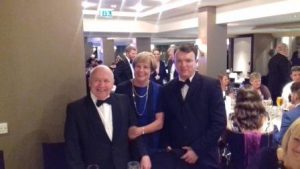 From left to right, Ian McDonald, Helen McDonald and William Morrison
Adults Supporting Adults are always extremely proud of our providers and to receive this recognition demonstrates our on-going commitment to offer person-centred support to individuals within Lincolnshire.
If you or someone you know would benefit from one of our services, or you would like to join our team please call our Head Office on 01529 416270.