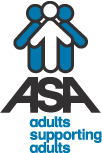 Adults Supporting Adults
Welcome to Our Website

"I've got more freedom, I'm much happier and the food is great!"

Patrick

Extended Stay

So what is Extended Stay?

Extended stay offers an opportunity to live with a supportive family to learn the skills necessary for independence.

Respite Resource

So what is Respite Resource?

Respite is a flexible service offering clients and their family carers a supportive break from each other.

At Home Day Resource

So what is At Home Day Resource?

A day service based in the providers home for people who have dementia or anyone else who would benefit from the uniqueness of this small group based activity.

Spriteleys

So what is Spriteleys?

Spriteleys is a brand new resource that currently provides social get togethers four times a week to older people in the Grantham area.

Daytime Provision

So what is Daytime Provision?

Daytime Provision is a support service designed to suit you and your needs. Support is provided on a one-to-one basis where a positive relationship between the provider and client develops.

Sitting Service

So what is Sit2Gether?

A specific resource provided by ASA trained staff that enables the family to have a short break during the day.

Shop2Gether

So what is Shop2Gether?

Your own personal shopper — designed to help you get to the shops.

Lifestyle Brokerage

So what is Lifestyle Brokerage?

As a result of your needs assessment, you will be awarded an amount of money which gives you the freedom to choose who can help and support you to lead a better life.