Posted In ASA Announcements, ASA In The News, Spriteleys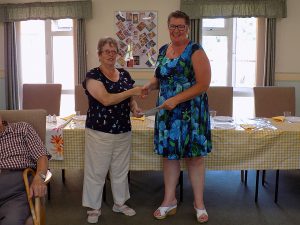 A day service for older people has received a sizeable donation from a supporter.
Pam Davis, of Wroxall Drive, Grantham, handed £370 to Spriteleys, which is run in Grantham by Adults Supporting Adults (ASA).
She raised it through a garden party she holds each year, after which she chooses a charity/cause to benefit.
Ms Davis chose Spriteleys having heard of the good work undertaken by ASA through a friend, whose husband attended the group.
Mr Davis said: "Spriteleys really is for the benefit of the local community, so I'm happy that I can contribute in some small way."
Manager Jayne Marsh, who accepted the cheque on ASA's behalf, said: "We are very grateful for the donation and we will ensure that the group puts it to good use. We know Spriteleys really does help reduce the social isolation that many older people feel and everyone looks forward to coming each week.
"Spriteleys still has a few vacancies on a Tuesday and Wednesday, so if you are interested in joining, then please call ASA on 01529 416270 for further information."
Pictured: Pam hands the donation to Jayne.
Read More at http://www.granthamjournal.co.uk/news/supporter-backs-grantham-service-for-older-people-spriteleys-1-7587485